Energy Outlet Helps You Power Your Business
Here at Energy Outlet, we are passionate about helping you find the right energy option for your home, but we also want to help you find the perfect commercial energy plans. We want to help you power your company, whether large or small. We understand that there are a lot of things to worry about when running a business, but your energy plan should not be one of them. At Energy Outlet, we are here to help you find the right energy plan for your company with the lowest rates. We have made the whole process as quick, easy, and stress-free as possible. It is now easier than ever to find the perfect energy plan for your company with the lowest business energy rates possible.
How It Works
Finding the right electricity solution for your company with low commercial energy rates has never been easier. To help you find your perfect electricity plans, all we need from you is a few minutes of your time. Take some time to fill out a brief survey providing us with some basic information about you and your company. Once we have this information, we send it to some of our top electricity provider partners who will take care of helping you find the best business energy plans and cheap electricity rates.
Learn More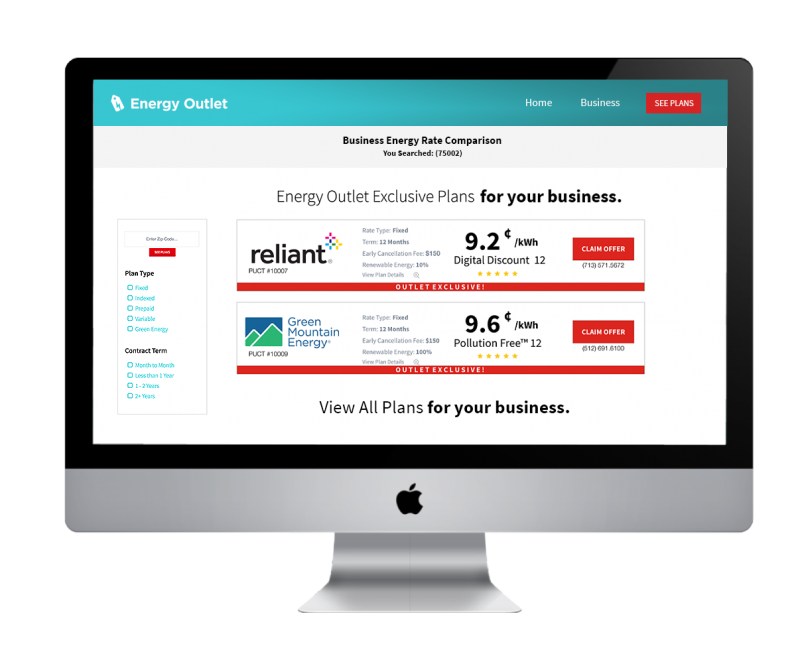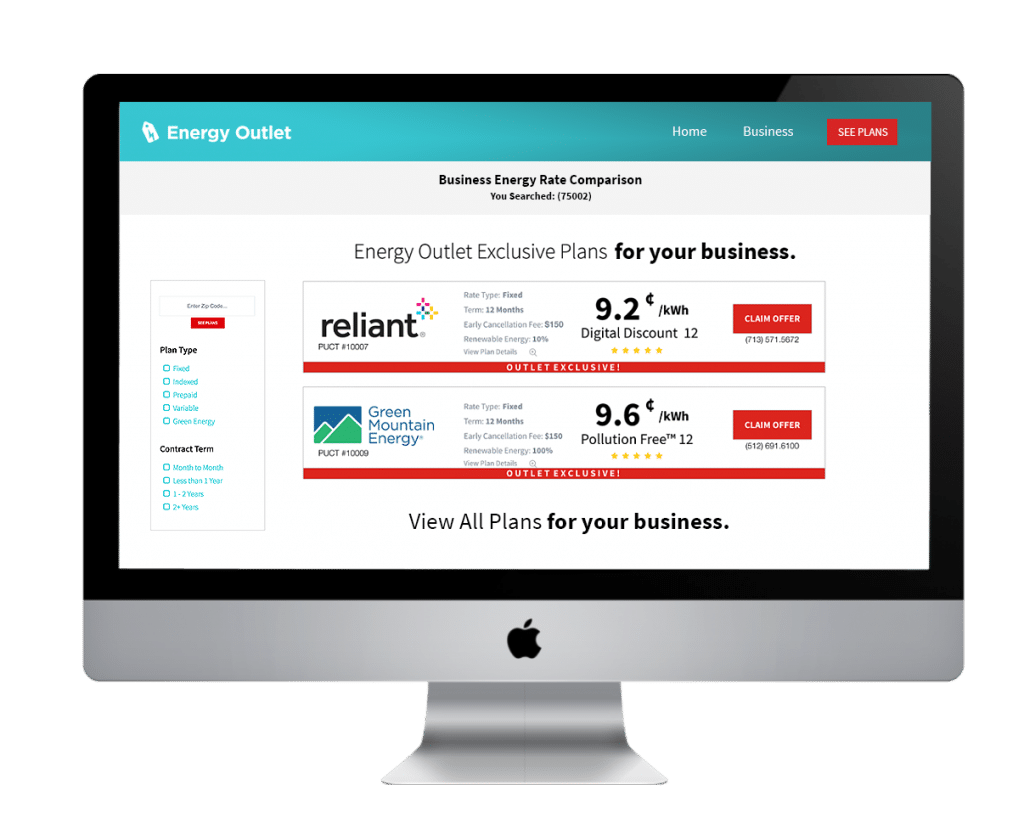 Finding the Right Provider
At Energy Outlet, we have partnered with several top electricity providers in the area such as Reliant Energy, Pulse Power, Green Mountain Energy, and others. Several of these partners want to help power your business. They are here to help you find the right energy plan solution with the lowest rates. Once our provider partners receive your information, they will begin to reach out to you personally with individualized plan options for your company.
Get Personal Rates
Choosing the Best Plan
Once you being to receive different energy plan options, all that is left for you to do is choose the best electricity provider with the best energy plans for your company. You also have the ability to compare energy plans and choose the lowest electricity rates. The hardest part of this whole process is choosing the best option. With all the great plans offered to you, it will be hard to settle for just one.
The best part is that this whole process is completely free. We want to make it as easy as possible for you to find the right solution for your company. Finding the best business energy plan and electricity rates has never been easier.
Shop Rates Now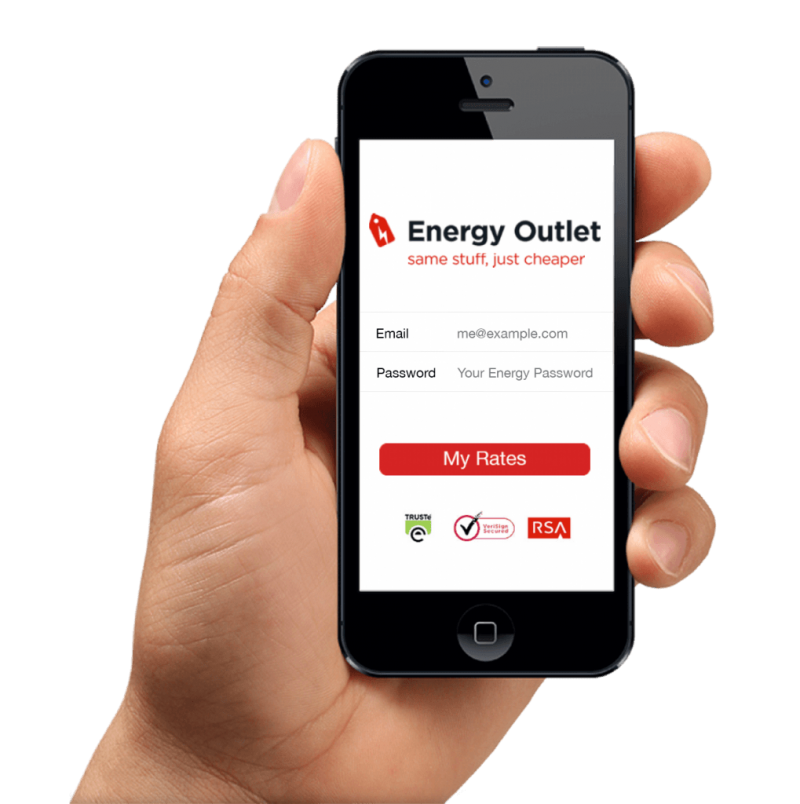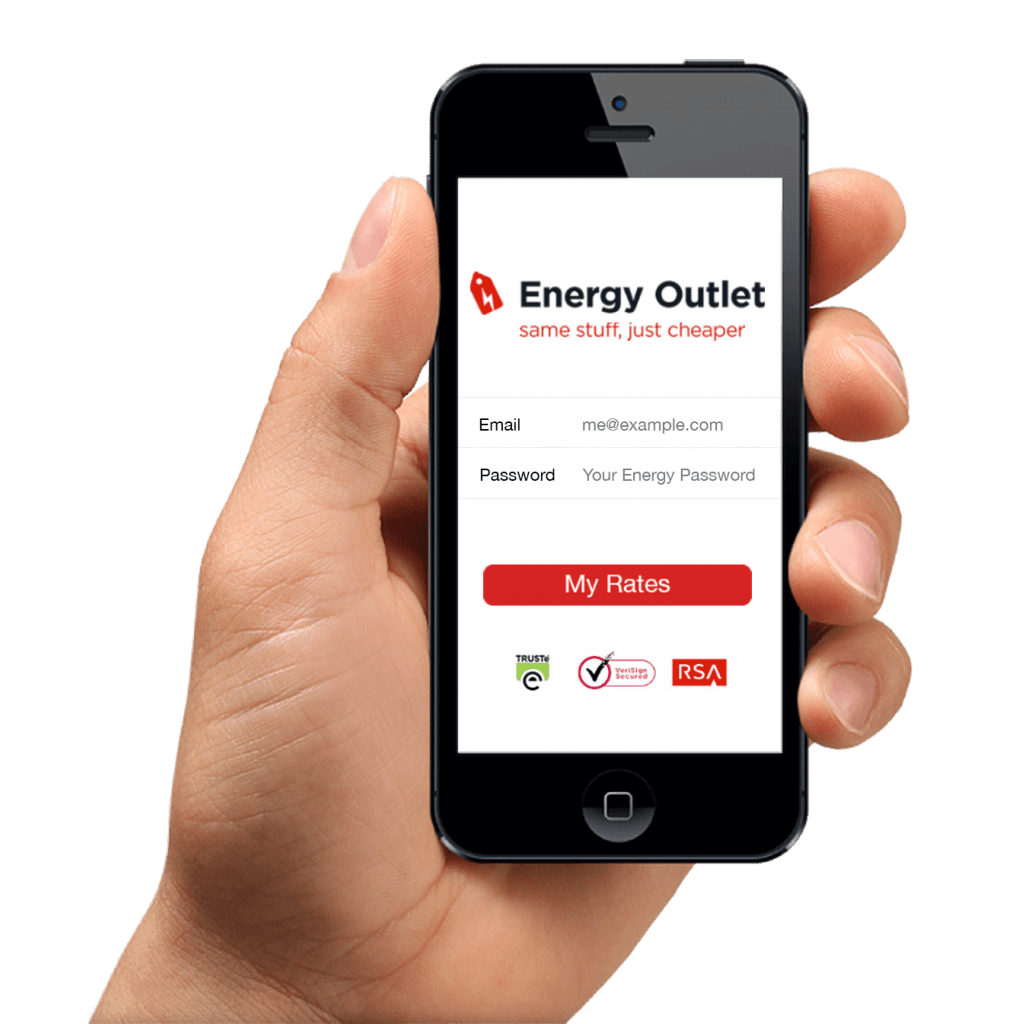 Need a specialized quote for your business?
If your business requires a customized electricity plan, we can have our energy partners reach out to you with a personalized quote.
Fill out the form below, and we will have our energy partners contact you shortly.
Energy Plan Options
Whether you are powering your business or your home, there are two basic energy plan options to choose from. These plan types are fixed-rate plans and variable-rate plans. Each of these options is vastly different, and it is important to understand what you need for your home to ensure you choose the best option for your needs.
Fixed-Rate Plans
The fist energy plan option you may decide on is called a fixed-rate plan. With this type of electricity plan, you will benefit from a set contract with locked-in rates. You will be able to agree to a set contract term that works well for your company. It is important that you choose an option with low rates for your business since your rates will stay the same throughout your whole contract term. A fixed-rate plan is perfect if you are looking for plenty of stability, security, and predictability with your company's electricity. It is also a great long-term option.
Variable-Rate Plans
The other available energy plan type is a variable-rate plan. This option is practically the opposite of a fixed-rate electricity plan. Rather than running on a set contract with a set rate, this type of plan runs on a month-to-month basis. If you decide on this option, you will have the power to cancel or change your plan at any time, since you will not be bound to a set contract length. With a fixed-rate plan, you will likely have to pay a cancellation fee if you end your plan early. With a variable-rate option, however, you will not have to worry about any cancelation fees. Your electricity rates will also change each month depending on the energy market. This means that your company may be able to save on energy during certain times of the year, but it may risk paying more during other times when energy market prices rise.