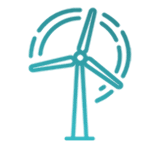 Energy for a Brighter Future
We've partnered with select energy providers to give you access to renewable electricity plans. Making the world a better place, one home at a time.
Get More Information
The traditional creation of electricity from fossil fuels is the number one source of carbon dioxide and air pollution in the United States. By switching to green electricity plans like those from solar and wind energy, you can make a big difference and reduce your carbon footprint. These plans conserve natural resources, promote the growth of the renewable energy industry and preserve our environment. Let's make a brighter future together.
Top Reasons To Go Green:
1. Increase the Value of Your Home: Installing solar panels on your roof top will be a perk for new buyers because green homes use renewable materials that have low impact on the environment.
2. Savings in Energy Costs: Going green can help conserve energy. Conserving energy equals conserving money. That's something we can all get behind.
3. Green Homes are More Durable: Believe it or not, making your home more eco-friendly is also making it more durable. Recycled products have the tendency to last over five times longer than traditional materials which means you have to worry less about maintaining your home which again leads to saving you more money.
4. Cleaner Environment: Going green also means effectively reducing your carbon footprint. By reducing pollution, you are reducing the amount of energy that is being used and creating a greener and cleaner environment. By living a green lifestyle, we are contributing in helping preserve the planet for future generations.