Waco Electricity Rates and Plans
Get your perfect Energy Plan in 5 minutes.
Save on Waco Electricity Rates and Plans!
Electricity Rates & Energy Plans in Waco, TX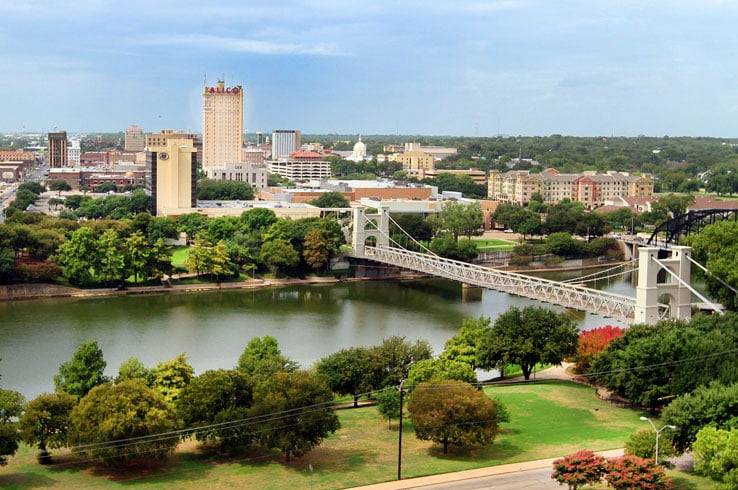 Energy Outlet gives you the power to choose the best energy plans in Waco with the lowest rates possible. We have done all the hard work for you and organized all the plans and Waco electricity providers available to you. Your only job is to pick the perfect Waco electricity plans for you and enjoy the benefits that come with your plan, including exceptionally low Waco energy rates. There is an abundance of plans to chose from, so you are bound to find the perfect one for you, with electricity rates that are surprisingly low. Energy Outlet is here to help you, so take a look at all we have to offer you as a resident of Waco, Texas.
Waco Energy Plans
Residents in Waco have a choice of fixed or variable rate plans. Both are great options and have their advantages for controlling your monthly energy bill and rates. Choosing the one that's right for you may take a little research. Compare energy plans in Waco to find the best option for you and your needs.
Popular Cities Around Waco: Dallas | Temple | Killeen | Abilene | Rockwall
Fixed Rate
A fixed rate plan has terms with a minimum of at least 3 months but could extend to as much 36 months. During the term of the contract, the base price of Waco energy will stay the same — with a few exceptions. This means you are guaranteed stability and security in the duration of your contract, with fixed rates throughout the whole term. This is a great long-term option and one that is reliable and predictable, with no surprises.
Variable Rate
On the other hand, a variable rate electricity plan will fluctuate based on wholesale energy rates. When Waco electricity rates drop, you will benefit from a lower electric bill. Your rates, however, will increase if the prices go up. Variable rate contracts are month-to-month, so there are no long commitments or fees for terminating the contract. This is a great short-term option or someone looking to take a risk and benefit from when energy prices are lowered.
Waco Electricity Rates and Power Plans
Energy Plans and Rates are shown for the Oncor Service area and were updated on January 27, 2021 at 09:12 PM. Pricing shown is based on an exact usage of 1000kWh per month. Estimates are based on information provided to us by each Partner Company. Please visit the Energy Provider website, and confirm the estimates using the Electricity Facts Label and Terms of Service.
Energy Outlet Electricity Plans
Reviews
Rated
4.8
/ 5 based on
110
Energy Outlet customer reviews
How Energy Deregulation Affects Electricity Rates and Energy Plans In Waco
One major perk of living in Waco is that the city is part of a deregulated area, and the residents of this city get the benefit from energy deregulation. Energy deregulation gives you the freedom to choose your plan and energy provider. With this ability, you have the opportunity to find a plan with the cheap electricity rates. Since you can choose your provider and plan, electric companies are doing what they can to compete for your business. In order to stand out from their competitors in the Texas Energy Market, many companies will offer unique plan benefits as well as the lowest electricity rates possible. This is great news for you. With deregulation, comes several diverse plans, each designed to fit specific needs. Take the time to explore your options and make sure you get the right Waco energy plan for you.
How Climate Affects Electricity Rates In Waco
The summertime in Waco is typically wetter than the colder season with much of the rainfall coming from convectional thunderstorm activity. Temperatures are very high and can lead to warm oppressive nights. This weather not only calls for a nice cold drink but also for blasting your air conditioning unit. Because of this, electricity rates are at their highest during the hotter months in Waco, and your energy bill can easily spike. The high humidity rates also cause your AC to have to work harder in order to remove the moisture from the air. On top of that, humidity makes the warm Waco air feel even warmer. This causes your air conditioning to have to work extra hard to keep you cool and comfortable in your home. A harder working AC means a higher price on your energy bill. Luckily, being a deregulated area, Waco has the advantage of being able to compare electricity prices and choosing an energy plan that best fits your needs.
Although the winters are usually mild, it is holiday season, meaning the number of your household occupancy will likely increase with family flying in to visit. This results in more cooking, water, lights, entertainment systems, etc. to be used that are factors that affect your energy bill.
About Waco
Waco is a city located in Mclennan County, Texas. The current population is 134,432. Waco has some great major attractions such as the Texas Ranger Hall of Fame and Museum and the Texas Sports Hall of Fame. It is also the birthplace of Dr. Pepper! Waco has a humid subtropical climate. This means the weather is usually moist throughout the entire year.

Compare Power Plans in Waco
Your Waco energy provider should be affordable, reputable, honest, transparent, and above all, customer centric. We have partnered with some of the most reliable Texas energy providers to bring you low rates, great companies, special plans, and 5 star service.
In a Contract? We can help.