Midland Electricity Rates and Plans
Get your perfect Energy Plan in 5 minutes.
Save on Midland Electricity Rates and Plans!
Electricity Rates and Energy Providers in Midland, TX
Choosing the Best Midland Energy Plans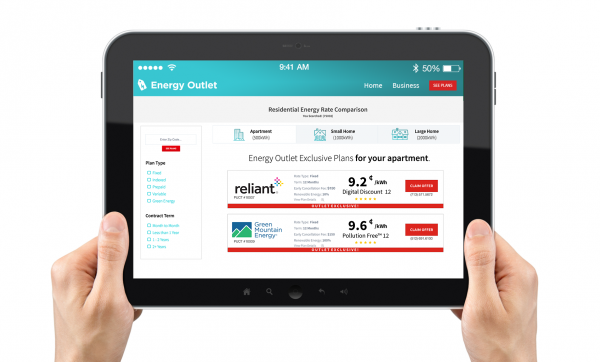 With Energy Outlet, you have the power to choose the best energy plans with cheap electricity rates. Compare energy plans to find the best option for you.
While it can seem overwhelming, trying to find the best Midland electricity plans, we are here to help you through the whole process. We want to make it as quick, easy, and stress-free as possible for you to find your perfect plan with the lowest Midland energy rates possible. When looking for a plan, you will find two different plan options. These options are fixed-rate and variable-rate plans. Take a look at what both of these options have to offer before deciding on the best option for your home.
Midland Energy Plan Options
One plan option available to you is a fixed-rate plan. With this type of plan, your electricity rate will be locked-in for the duration of your contract. You will agree to a set rate at the beginning of your term, and that will not change until your contract ends. You will also have the choice of several contract length options, typically ranging from three months to three years. This plan offers security and consistency.
Another option you available for you is a variable-rate plan. This plan, unlike a fixed-rate plan, does not come with a set energy rate. With this plan, your rates will change depending on the energy market. This means that you will benefit from lower rates during certain times in the year, but you may have to pay more at other times. This option also runs on a month-to-month basis rather than a set contract. 
Other Popular Texas Searches: Fort Worth | Desoto | Mansfield | Nacogdoches | Sherman |
Midland Electricity Rates and Power Plans
Energy Plans and Rates are shown for the Oncor Service area and were updated on January 23, 2021 at 06:12 AM. Pricing shown is based on an exact usage of 1000kWh per month. Estimates are based on information provided to us by each Partner Company. Please visit the Energy Provider website, and confirm the estimates using the Electricity Facts Label and Terms of Service.
Midland Electricity Providers
We have partnered with some of the top electricity provider companies in Midtown in order to help you find the best possible option for your home. We are also passionate about doing our part to help benefit the world around us, and we want to create opportunities for you to do so as well. With this in mind, we have partnered with companies such as Amigo Energy and Reliant Energy. These companies offer plans that allow you to power your home using renewable energy and benefit the world around you.
How Energy Deregulation Affects Electricity Rates & Energy Plans in Midland
Energy deregulation is what allows you to choose your plan and provider. This choice creates competition in the energy industry between the providers. They are battling for your attention, and ultimately, your business. In an attempt to win you over, they will often offer low rates and unique plans with extra benefits. This is great news for you. 
Midland Energy Distribution
After switching your plan, your electricity distributor company,Oncor Electric Delivery, will take care of any changes. You will not have to worry about any disruptions in your electricity. After you switch your plan, your work is done. 
About Midland
Originating its name from the Texas Pacific Railroad where the tracks from Fort Worth and El Paso met, which was known as Midway at the time, Midland, Texas thrived as a railroad town. Shortly before World War II, the discovery of oil was made and today Midland lies in the heart of the second largest oil and gas shale in the world, the Permian Basin oil region. Midland gets its nickname, "Tall City" because of its enormous buildings downtown that can be seen from miles away have also impacted an attraction for tourists.
Energy Outlet Electricity Plans
Reviews
Rated
4.8
/ 5 based on
110
Energy Outlet customer reviews

Compare Power Plans in Midland
Your Midland energy provider should be affordable, reputable, honest, transparent, and above all, customer centric. We have partnered with some of the most reliable Texas energy providers to bring you low rates, great companies, special plans, and 5 star service.
In a Contract? We can help.