Pasadena Electricity Rates and Plans
Get your perfect Energy Plan in 5 minutes.
Save on Pasadena Electricity Rates and Plans!
Electricity Rates and Energy Providers in Pasadena, TX
Choosing the Best Energy Plan
Energy Outlet is here to help you find your perfect plan option with the lowest electricity rates possible.
Finding a plan can be an overwhelming process, especially with all the options available to you. Energy Outlet, however, is here to help make the whole process simple and stress-free. We make it easy for you to find your perfect plan option with the lowest rates available. Compare energy plans in your area to find the best option for your needs.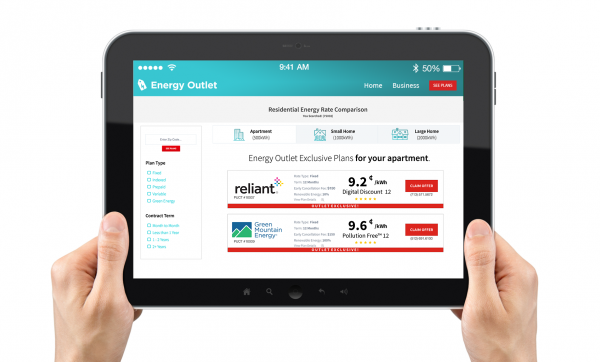 Fixed Rates
One option available to you is a fixed-rate plan. With this option, you will have a set, locked-in electricity rate. You will agree on a set rate before beginning your contract. This rate will not change with the energy market. There are several contract lengths to choose from. Although they could be any length, they typically run between three months to three years. This is a great option to provide you with stability and consistency.
Variable Rates
A variable-rate plan is practically the opposite of a fixed-rate plan. With this option, you will have no set monthly electricity rate and no contract. The rates will change based on the energy market, and the plan runs on a month-to-month basis. This means you will have more freedom and flexibility with your plan. You will also benefit from lower rates during certain times in the year. You will, however, have to pay more during other times in the year.
Popular Cities Around Pasadena: Houston | Grandview | Haltom City | Hamlin | Haskell | Henrietta | Hutchins
Pasadena Electricity Rates and Power Plans
Energy Plans and Rates are shown for the CenterPoint Service area and were updated on January 23, 2021 at 12:08 AM. Pricing shown is based on an exact usage of 1000kWh per month. Estimates are based on information provided to us by each Partner Company. Please visit the Energy Provider website, and confirm the estimates using the Electricity Facts Label and Terms of Service.
Pasadena Electricity Providers
Energy Outlet partners with some of Pasadena's top electricity providers, so that you have plenty of great options to choose from when looking for Pasadena electricity plans. We want to do our part to help better the world around us. We also want to help you do the same. With this in mind, we have partnered with some electricity provider companies such as Amigo Energy and Reliant Energy. These providers offer plans that allow you to power your home using renewable energy so you can help the earth without hurting your wallet.
Electricity For Businesses
We offer the best energy plans for your home, but also your business. We are here to help you find the best option for your business with cheap electricity rates. All you need to do is spend a few minutes filling out a brief survey to provide us with some information about you and your business. From there, we will do the hard work for you. We will reach out to some of our top providers and they will begin to contact you with personalized Pasadena energy rates. From there, all that is left for you to do is choose the best option with the lowest rate. The whole process is quick, easy, and completely free.
How Energy Deregulation Affects Electricity Rates & Energy Plans in Pasadena
Energy deregulation is what gives you the freedom to choose your Pasadena energy plans and provider. It allows you to find the best plan and the lowest rates. Companies offer low rates and unique plans in order to try to win your business. This means you have several great options to choose from and the freedom to make your choice. Being in a deregulated area is a major benefit of living in Pasadena.
Pasadena Energy Distribution
Energy companies in deregulated cities across the state now compete to supply electricity to residents in accordance with the Texas Senate Bill 7. Residents and business owners have had the ability to choose their retail electric provider in Pasadena, since 2002. Pasadena's local electric utility company, Center Point Energy, continues to deliver electricity to your home or business and maintain power lines.
Energy Deregulation is just another advantage to living in Pasadena- with its close proximity to the competitive Dallas energy market, EneryOutlet.com makes finding the right electricity provider efficient and worry-free.
Using Energy Outlet, with so many electricity companies to choose from comparing local providers, has never been more simple. By providing you with a list of local electricity providers, you can choose the right plan for your home or business.
About Pasadena, TX
Being the second-largest city in Harris County, Pasadena has an extremely high consumption in energy, making it crucial to administer the right energy provider for the city's residents. Pasadena's economy is diverse compared to most with the help of the establishment of NASA's Johnson Space Center, petroleum, and other heavy industry. The climate in Pasadena is characterized by hot, humid summers, and mild to cool winters. Fortunately, the rates in Pasadena are not as expensive as most of the cities in the United States. Check out the various rates and energy providers to find the most suitable one for you and your family.
Changes in weather, your household occupancy, or even slight lifestyle adjustments can make a difference in your energy bills. Whether you are watching your favorite show on TV on a regular day or blasting your air conditioner on the hottest day of the year, there is no way to avoid using electricity. Luckily, being a deregulated area, one of the best perks Pasadena has to offer is the ability to compare electricity prices and choosing an energy provider that best fits your lifestyle.
Energy Outlet Electricity Plans
Reviews
Rated
4.8
/ 5 based on
110
Energy Outlet customer reviews

Compare Power Plans in Pasadena
Your Pasadena energy provider should be affordable, reputable, honest, transparent, and above all, customer centric. We have partnered with some of the most reliable Texas energy providers to bring you low rates, great companies, special plans, and '5 star' service.
In a Contract? We can help.