Electricity Rates & Energy Plans in Corpus Christi, TX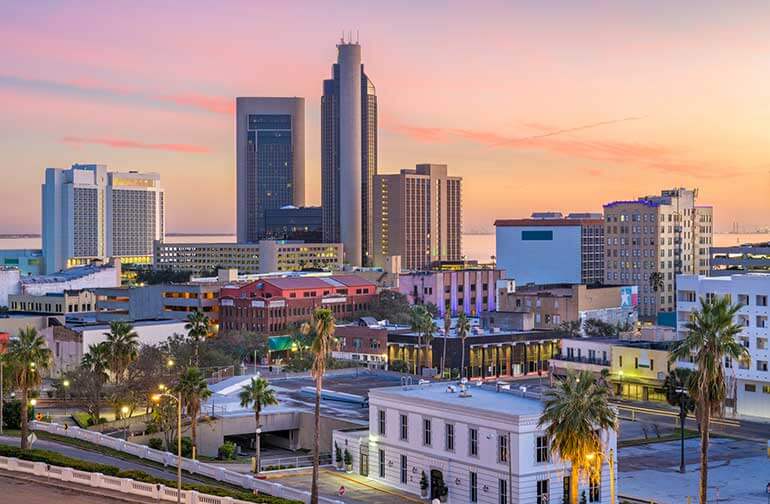 Corpus Christi is a coastal city in the South Texas region of the United Staes. The city's nickname is "Sparkling City by the Sea" and with a population of 325,733 as of 2016, it's the 8th largest city in Texas. Corpus has a fairly mild climate for Texas with and average of 63 degrees in the winter and 93 in the summer. November through February is when the weather is the coolest. Although the winters are typically dry, it is holiday season meaning the number of days spent inside will increase with time off work and family visits. This results in more cooking, water, lights, entertainment systems, etc to be used which are factors that affect your Corpus Christi electricity rates.
Summer and Your Energy Usage
The warm season begins in March with the hottest days usually occurring in August. Temperatures often reach over 100 °F. Corpus Christi's summers call for your air conditioning system to run consistently. Due to the excess humidity, your air conditioning system will also work harder to remove the moisture from the air. Being a deregulated area, Corpus Christi gives you the power to switch your energy provider and pay considerably less for your electricity. Local utilities may vary, but switching to a different energy provider can still mean big savings.
Corpus Christi Electricity Rates and Plans
Finding Corpus Christi Energy Companies Made Easy
The Corpus Christi area has over 113 miles of Gulf Coast beaches; visitors to Corpus Christi have access to nearly 70 miles of beach front on Padre and Mustang islands. With all these beautiful beaches also comes a lot of sun. With an average summer temperature of 93, it's nice to know energy deregulation gives you the power to choose. Whether you're a residential consumer, or a business owner, EnergyOutlet.com makes finding the right Corpus Christi electricity rates simple.
Corpus Christi Electricity Emergency
Depending on your location you may receive service from 1 of the 5 Texas utility companies. These utilities service everything from the poles and wires to meters and electrical equipment. It is their job to bring you electricity safely and reliably. In Corpus Christi AEP Central is the utility to contact with emergencies regarding any of these issues.
Energy Outlet Electricity Plans
Reviews
Rated
4.8
/ 5 based on
110
Energy Outlet customer reviews